Description
AL-Dolly/Cart
Dolly is a piece of equipment that has wheels and that is use for moving heavy objects. In a factory production line, dolly uses as a handful equipment to transfer a part box between working area.
We design a brand new product to use with plastic and corrugate box which able to stacking and moving which is very strong, light weight and easy maintaining. It is very suitable for packaging and logistics section, It helps to prevents and detects which might happen on the floors ? and reduce noise. Also help labor saving. Customer able to customize size to suite with an operation box size.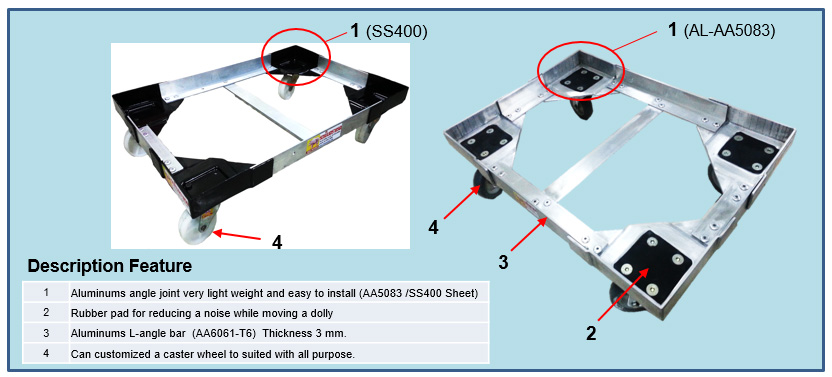 Specification AA6061 Aluminum Angle
AA6061-T6 Aluminum Angle, Structural Aluminum Angle is an extruded aluminum product with inside radius corners that intend to use for all structural applications where greater strength is required. 6061 Aluminum Angle is widely use for all types of fabrication projects where lightweight and corrosion resistance is a concern. Easy to weld, cut, and drill.
Specifications: ASTM B308, QQA-200/16, 6061-T6
Standard: structural aluminum angle,
Applications: frame work, braces, supports, trailers, truck beds, etc.
Workability: Easy to Weld, Cut, and Machine.
Mechanical Properties :Brinell = 95, Tensile = 45,000 +/-, Yield = 40,000 +/-